Gemeinsame Karte
Für Saunaliebhaber
1 Karte für 2 Wellness - Bäder
Jahreskarte300 EUR
Winter Saisonkarte220 EUR
Sommer Saisonkarte140 EUR
Karten erhältlich an den Badekassen in Mallnitz und Obervellach
Wellnesstage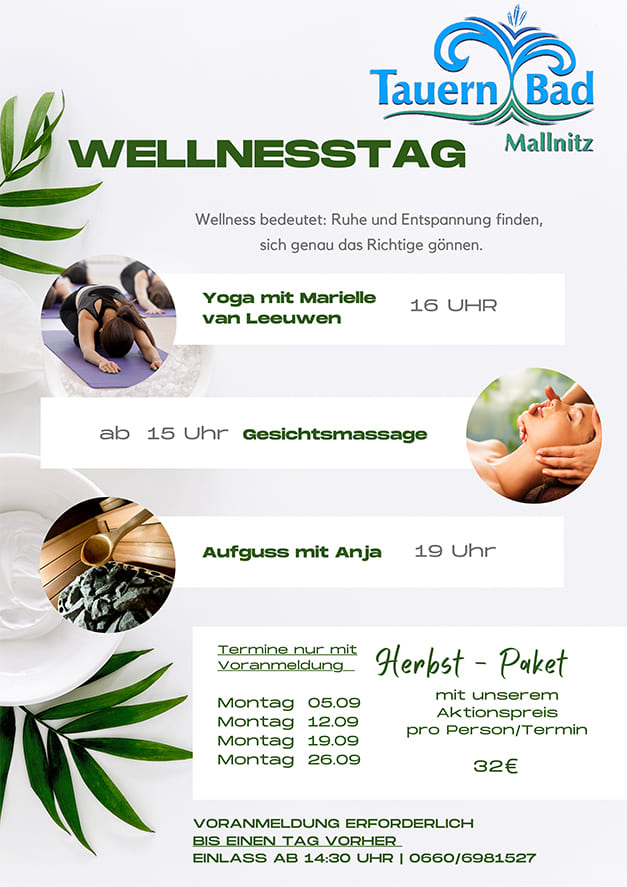 What we offer
Leisure pool
Our leisure pool is equipped with air mattresses, massage pool-wall jets, massage-pool-floor jets, water slides and a children's pool. For those who want to relax, we also provide a heated Jacuzzi.
Click here for more information
Sauna complex
Our sauna complex includes two Finnish saunas, a herbal sauna, steam bath, infrared-heated sauna cabin and an outdoor area and relaxation room. In the sauna's lounge area guests can enjoy the vitalized water from a GRANDER drinking water fountain.
Click here for more information
Massage & solarium
Two masseuses offer a variety of massages and treatments. Our guests can also treat themselves to a few minutes in one of our two solariums.
Click here for more information
Sport center
In the summer months we offer guests the use of two tennis courts, an inline skate / street basketball court, asphalt curling surface and a large playground for children. During the winter months guests can make use of the ice rink and curling rink. Adventure seekers can also use the indoor climbing wall and bouldering area.
Click here for more information
Restaurant
Our pool host Helene and her team are looking forward to your visit.
"Water brings wisdom, wine brings fun, we drink both to shine like the sun"
Click here for more information